Emmanuel E Mordi, MD, FAAP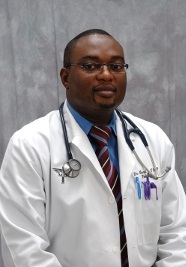 Dr. Mordi is a Board Certified Pediatrician and a Fellow of the American Academy of Pediatrics. He is also a member of American Medical Association. He completed his Internship and Residency training at the prestigious Mount Sinai College of Medicine, Jersey City, New Jersey/New York.
Prior to forming Delta Pediatrics, Dr. Mordi had practiced in a larger group Pediatric Practice in Lawrenceville area of Georgia for six years. He also has extensive experience in Urgent Care Clinic having worked for Kaiser Permanente in Duluth for about three years.
Dr. Mordi brings to this practice a broad based knowledge, passion for quality child care and is excited to have the opportunity to care for patients in a setting that allows individualized patient care and looks forward to getting to know his patients and their families.
He is on staff at Gwinnett Medical Center and also at the Children's Health Care of Atlanta, Scottish Rite campus/Egleston. He has special interest in management of minor pediatric traumas, Asthma, infectious diseases and newborn care. He attends conferences throughout the year to be current with new trends in Pediatric Practice.
Dr. Mordi is married with three children and loves spending time with his family.